The Valladolid meat company Miguel Vergara has been the only Spanish beef meat company awarded with three stars at the prestigious Great Taste Awards 2020 held in London and considered the "Oscars" of Food. Said stars have been awarded to their prey and their sirloin, both of the Angus breed, with two and one award respectively, which have conquered the palates of the judges.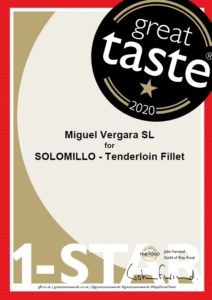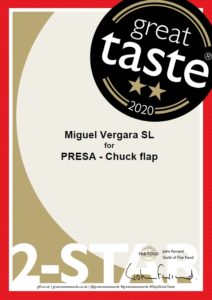 The jury, made up of more than 500 gastronomic critics, chefs, cooks, restaurateurs, buyers, retailers and producers, have succumbed in a blind tasting in front of the Miguel Vergara Angus dam, which has been awarded two stars, for "its quantity of intramuscular fat and its incredibly tender and unusual character. Easy to chew, its texture in the mouth is moist and juicy with a distinctive meatiness that makes every bite enjoyable and its rich, tasty and succulent flavor not lost ". While Miguel Vergara Angus sirloin has been awarded a star for "its extreme tenderness and juiciness in the mouth and light, smooth flavor, although with length and depth".
This international competition, which this year celebrates its sixteenth edition and in which 106 countries and 12,777 references have participated, is the largest and most prestigious food and beverage award in the world. It offers a unique evaluation system and framework, and also provides independent accreditation that fosters the confidence and commercial success of award-winning brands.
In the Gran Sabor Awards, the jury values ​​taste above all else, regardless of the brand and the packaging, removed before being tasted. The judges then savor, consult and retest to decide which products deserve a 1, 2 or 3 star award.