About 40 people, men and women, have participated in the II Meeting of Women in the Meat Sector held on the occasion of Women's Day and which has been organized by Carnimad in collaboration with Educarne. The event was attended by Begoña Villacís, deputy mayor of Madrid, who opened the event and congratulated the organization for the proposal to value the female world in the meat sector. It was she who gave the first figure of the unequal relationship still existing in the sector: of the more than 1,300 establishments in the Community of Madrid, 62 are managed by women and praised the figure of María Sánchez, general director of the Association of Butchers and Charcuteros de Madrid and the boost it is giving to the entity. The general director of Commerce and Consumption of the Community of Madrid, Marta Nieto, closed the day by encouraging all participants to continue working to empower women in the sector.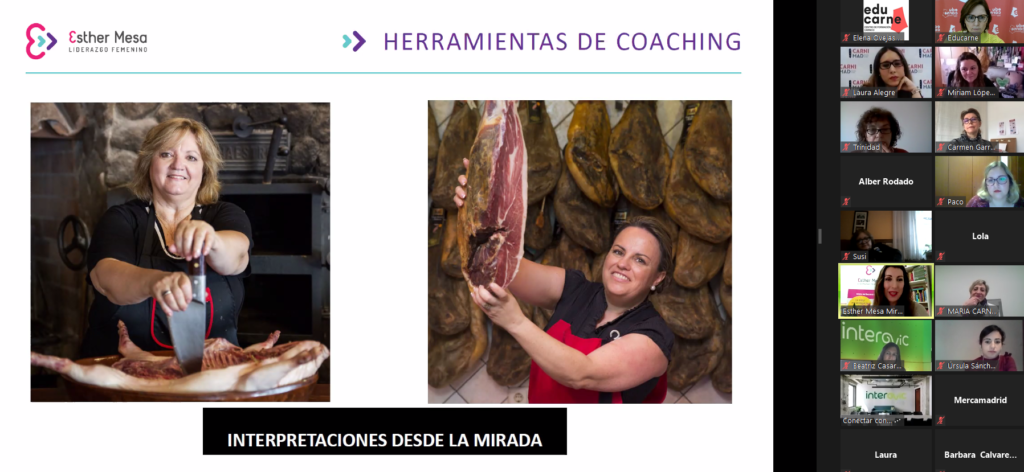 The meeting, which was carried out digitally, has revolved around two activities. In the first place, the presentation "Female empowerment from the recognition of our strengths" has been developed, given by Esher Mesa, an expert in female leadership who stated that "feminism is not issues related to women. Feminism is equality and, therefore, therefore, they also include man. " His presentation focused on seeing all the positive that women bring to the sector and also "on valuing ourselves, saying I can and I want to. During the pandemic the primary sector has been visualized, now is the time to relaunch it."
After this inspirational and motivational presentation, a round table was held on the theme "Women in business and digital transformation", which featured important examples of female empowerment in the sector..
Concepción Díaz Villegas, director of commerce and hospitality at the Madrid City Council, worked as a veterinarian for the Madrid slaughterhouse. Her professional point of view and her broad vision of the sector has been of great interest: "We are not willing to guess that this sector of men. Our capacity and strength is indispensable."
Trinidad Gómez, director of SERTINA, a company specialized in online sales. "Years ago in stores and markets only basic products were sold. Over time we have moved forward and have incorporated value-added and elaborate products. Women have a lot to do with the digitization process as well."
Úrsula Sánchez, extensive cattle rancher for 4 years, is developing an innovation project based on blockchain technology for the traceability of meat. "The world of livestock has been very masculinized. Women have been empowered in rural areas and now the experiences of livestock led by women are many. The new trends in organic production have a lot to do with women."
Míriam López, specialized in gastronomy, founded Jamón Lovers in 2016, the only independent digital media specialized in ham. "We cannot communicate with young people in the same way that we do in other media. Digitization is a process that makes us go directly to the young audience."