The Mediterranean Diet Foundation, in collaboration with the Department of Climate Action, Food and Rural Agenda of the Generalitat de Catalunya, has organized on November 2 the Animal Protein Forum from which 8 conclusions have been drawn that have been validated by two groups of professionals and experts: the scientific coordination group and the nutritional coordination group. Anafric has participated, led by José Friguls, in the scientific coordination rapporteur group.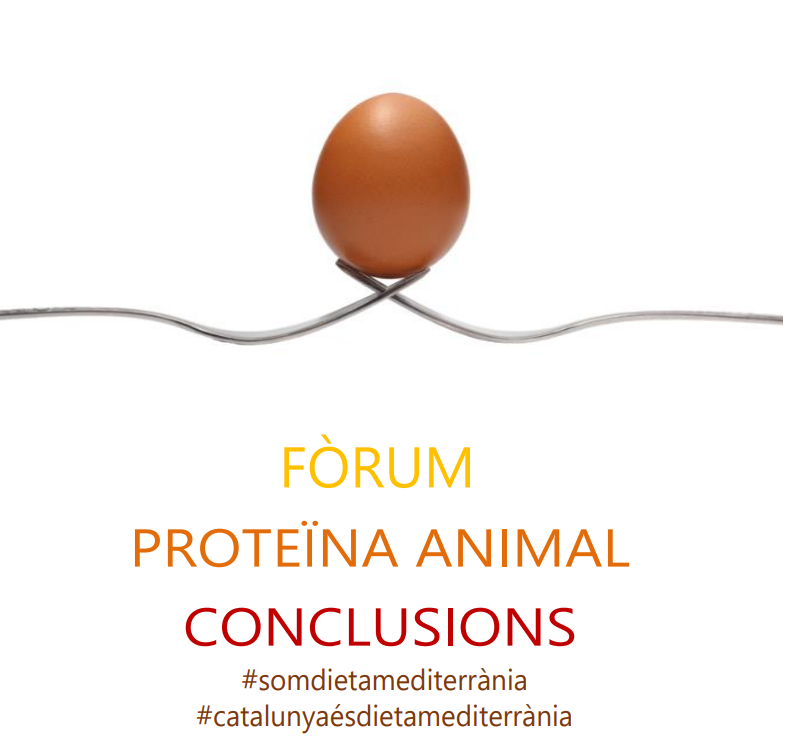 The 8 conclusions of the Forum on Animal Protein are:
1.- Importance of meat consumption in the evolution of the human being: From the anthropological point of view, hominids began to develop as humans from the ingestion of meat.
2.- Meat in the Mediterranean Diet: Meat and meat derivatives are part of the healthiest and most sustainable diet, such as the Mediterranean diet. The recommendation is to consume 3-4 weekly servings of white meat (chicken and rabbit) and less than 2 weekly servings of red meat (beef, sheep and pork). The diet has to be varied and balanced, in order to obtain all the necessary nutrients and, in order for this message to reach the population, it has to be simple and appropriate, so that everyone understands it.
The key is in the synergies that are established between foods, and it all depends on the quantity and frequency with which we consume them.
3.- Scientific evidence in relation to meat consumption and mortality in cardiovascular diseases and cancer: Meat has always been considered a healthy food in a balanced diet, although some epidemiological studies associate the consumption of meat, both processed and non-processed. processed in a slight increase in mortality and the incidence of cardiovascular disease, diabetes and cancer. But, more recent studies indicate that these studies could have methodological errors, so that new data analysis technologies could be reconsidered and applied. It is necessary to take into account not so much the type or amount of meat consumed but rather the synergies between foods and the importance of consuming meat with vegetables and not other or less healthy foods.
4.- Mechanisms of the protective effects of meat: Meat stands out from other foods as a source of complete proteins (high quality), more bioavailable iron and zinc, and especially as a source of vitamin B12.
5.- Sustainability: The meat sector plays a key role in the Catalan economy and helps to preserve the rural environment, by making it more sustainable, it helps social and territorial cohesion.
6.- Role of restaurants, to increase the value of meat dishes and provide information to consumers about the benefits, nutritional composition, livestock feeding, the different cuts and cooking methods.
7.- Education in schools: A varied diet must be instilled in childhood in schools and at home, to promote a healthier life at school age. Promote education on proper nutrition, especially the Mediterranean diet, and the health benefits of meat consumption, which has to start at school and at home. The consumption of proteins of high biological value is fundamental in an adequate general development in childhood and in the different stages of life.
8.- Better information for the population: It is necessary to develop a complete, consensual, simple story/message that cannot be refuted, to avoid providing incomplete messages and misinformation. The objective is to avoid the excess of information, transversal misinformation and connect the urban world with the rural one.
El grupo de coordinación científica está coordinado por Ramón Estruch, coordinador científico, y formado por:
Sr. Miguel Aguilera – Director de Calidad de ARGAL
Dra. Camila F. Arancibia – Dietista-Nutricionista de la Universitat de Barcelona
Sra. Àngela Casanova – Directora de la Asociación Española de Productores de Vacuno de Carne (ASOPROVAC) en Catalunya
Sra. Cristina Fernández – Departamento de Innovación de la Escuela Superior de Hostalería de Barcelona (ESHOB)
José Friguls – Presidente  de ANAFRIC
Sr. Rafael Martínez – Propietariode Can Xurrades
Sra. Cristina Massot – Sub-directora General d'Indústries i Qualitat Agroalimentàries
Dr. Emili Ros – Endocrinología y Nutrición. Investigador IDIBAPS – Hospital Clínic
Sr. Oriol Tarrats – Secretario general del Gremi de Carnissers-Cansaladers-Xarcuters de Barcelona i Comarques (GremiCarn)
Sra. Chelo Tonijuan – Consejera de Compañía General Cárnica
Sr. David Torrallardona – Representante del Consell de Col·legis de Veterinaris de Catalunya. Investigador de IRTA-CRESA
El grupo nutricional estaba coordinado por la Dra. Rosa Lamuela, del Departamento de Nutrició y Ciencias de la Alimentación y Gastronomía de la Universidad de Barcelona, y formado por:
Sr. Isidre Argerich – Responsable de Comunicación Corporativa Bonàrea
Sra. Barbara Calvaresi – Responsable del sector cárnico de la Asociación Española de Codificación Comercial (AECOC)
Sr. Vinyet Capdet – Coordinadora del Grado de Ciencias Culinaries y Gastronómicas del CETT
Sra. Gloria Cugat – Sub-directora General de la Inspección y Control Agroalimentario
Sra. Paqui Esteban – Chef y Nutricionista – Copropietaria de Can Xurrades
Sr. Ricard Julià – Representant de IGP Vedella dels Pirineus Catalans
Prof. Abel Mariné – Professor emérito del Departamento de Nutricióny Bromatología de la Universitat de Barcelona
Sra. María Martínez – Responsable del Área Calidad y Seguridad Alimentaria de GremiCarn
Sr. Ricard Parés – Director de la Associació Catalana de Productores de Porcí (PORCAT)
Dra. Isabella Parilli – Dietista-Nutricionista de la Universitat de Barcelona
Sr. Ignasi Pons – Director Adjunto de la Federación Empresarial de Carnes e Industrias Cárnicas (FECIC)
La Fundación Dieta Mediterránea fue creada en 1996 por la Asociación para el Desarrollo de la Dieta Mediterránea para realzar el valor fundamental que representa la Dieta Mediterránea y sus productos para la alimentación española y su industria. Entre sus principales objetivos se encuentran los de:
Fomentar los valores de la Dieta Mediterránea, sus productos, el estilo de vida saludable que representa, que es a la vez socialmente viable y respetuoso con el medio ambiente.
Dar visibilidad a la colaboración con otras instituciones, centros de investigación, universidades, empresas, productores, y entidades tanto del ámbito nacional como internacional.