Costa Food Meat, a company that is part of the Costa Food Group meat holding, has received the certification of its protocols against COVID-19 from AENOR, proving the proper implementation and effectiveness of the measures applied by the company. Likewise, Costa Food Meat supports your compliance with the guidelines set by the Ministry of Health in terms of prevention and hygiene on COVID-19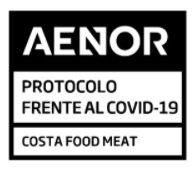 Protocol established to obtain certification
Action protocols were developed and implemented within the work centers during the different phases of the state of alarm.
Prevention, action and confinement measures were included:
Preventive training of workers on the guidelines established by the health authorities to safeguard their health and that of their colleagues.
Temperature controls.
Expansion of the number of disinfection stations at the access points to the production centers.
Design of entry and exit shifts by sections to establish firewalls and avoid contagions.
Increased safety distances for workers.
Enabling new common areas to guarantee the recommended physical distance at all times.
Provision of all the PPE required to carry out its activity, among others.
Objective: avoid risks
"These are difficult moments where we are all learning every day to adapt in the best possible way to this situation," says Jorge Costa, CEO of Costa Food Group. "Our efforts are focused on taking care of our employees and minimizing the risk of spreading the virus in our production centers in order to continue supplying the food chain."
For his part, Rafael García Meiro, CEO of AENOR, stated that "Costa Food Meat shows that its commitment to serving society is at the forefront of its considerations, consistent with its position. Its solvent and now certified protocols powerfully boost the confidence necessary for the food sector to quickly recover its important contribution to society and the economy ".
From the beginning of the alert state, Costa Food Meat, as a food company, responsibly maintained its industrial activity, helping to ensure the supply of the population. To this end, the company has taken extreme safety and hygiene measures following the recommendations of the health authorities and other international organizations to guarantee the well-being and safety of its workers, suppliers and customers.