"The work in animal welfare of all professionals in the Spanish pig sector is based on science and supported by it. It is the qualified professionals who tell us what is the best way to take care of the animals, that they feel well physically and psychologically and that all their needs are covered and cared for ". This was expressed by Alberto Herranz, director of the Interprofessional del Porcino de Capa Blanca (INTERPORC) in the V Edition of the Sepor de Oro Awards, in which the Interprofessional has received the National Award Sepor de Oro 2021 in the Animal Welfare category for the creation of the seal 'Certified Wellbeing Commitment'. The awards ceremony took place this Tuesday, October 26.
The SEPOR jury thus recognizes INTERPORC's work, which, in its opinion, "develops relevant actions that aim to promote animal protection and raise awareness, providing outstanding and exemplary services to animals."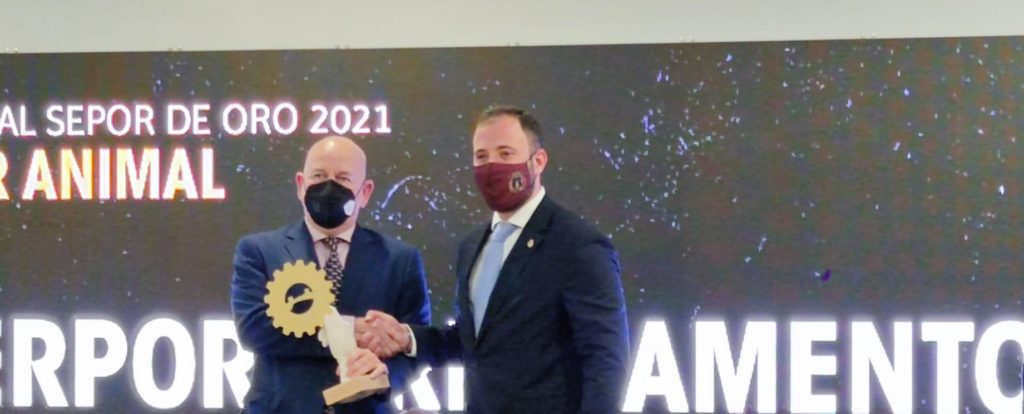 Value excellence
The Sepor de Oro awards recognize the most outstanding representatives of the livestock, producer and transformer sector of the agri-food industry in Spain, and value the excellence, commitment, innovation and effort of the pig sector for the Spanish economy and society.
Among the works of lNTERPORC in favor of animal welfare, it is worth highlighting the creation of the 'Certified Welfare Commitment', a quality seal to endorse the good practices carried out in matters of animal welfare, health, biosecurity, animal handling and traceability, in all the links in the value chain of white-coated pigs in Spain.
To obtain this seal, it is necessary to comply with the Interporc Animal Walfare Spain technical regulation of animal welfare and biosecurity, which contemplates, in addition to the community legal regulations on animal welfare, other more demanding requirements that represent an additional plus in matters related to health and animal health, biosecurity, animal housing, food safety, traceability and the environment.