Nanta has been the first company in our country to achieve the highest food safety certification, FSSC 22000, within the Production of Feed category for eight of its factories in Spain and Portugal.
A voluntary food safety management certification granted by AENOR that represents a significant expansion of the current system, adapting it to the new version of the ISO 22000 (2018) standard, together with compliance with a technical specification for the prerequisites (ISO TS 22002_6 2016), as well as the fulfillment of additional requirements demanded by FSSC for the animal feed sector.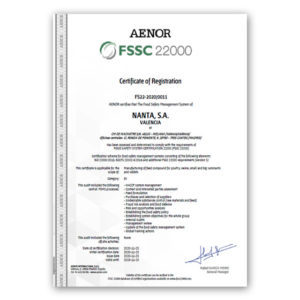 This certification, one of the most demanding in food safety, provides an additional guarantee of the quality and safety of our products in each and every one of the different stages of the feed production process, as well as in the logistics of storage and delivery. . "
To obtain it, the company has assumed a series of additional requirements not considered until now, such as "Mitigation of food fraud" and "Food Defense", aimed at preventing actions or intentional fraud that could compromise food safety , as well as a requirement of "Product Formulation", which takes into account the control of substances, nutrients or ingredients that could have adverse effects on animals or affect food safety.
More information Nanta.