Only when we offer the best, tastiest meat in a natural environment, can you continue to offer it for another 3000 years. Suckling meat, lamb and kid. Tasty and sustainable.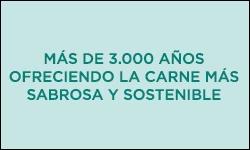 Eating meat can be sustainable
With over 3,000 years of tradition, pasturing has proven throughout history that consuming suckling pig, lamb and goat meat is sustainable, as well as healthy and tasty. Thanks to its natural form of production, today our meats continue to reaffirm themselves as the perfect option for those looking for a succulent product, with a unique flavor and that contributes to preserving the environment in the long term.
In a current context where consumers increasingly seek food with ethical values ​​behind it, livestock reiterates its socioeconomic and environmental benefits through its impact on territories and landscapes. And it is that, after some steaks, a leg steak, a tournedó or a hamburger … there is a sector that helps to revive the rural environment, promote biodiversity and prevent fires.