The Paquito Route marks the way for anyone to try the fashionable sandwich in the different establishments that offer their version of Paquito in Madrid until June 23. The objective of this action promoted by Interovic is to bring lamb meat to the public in a fun, fresh and informal format, as part of a very enjoyable snack that is eaten with the hands. For a month, the Ruta del Paquito will take over bars and restaurants in the capital so that consumers can discover and enjoy different versions of this sandwich whose main ingredient is lamb meat.
Madrid welcomes, one more year, the Paquito, the sandwich that different establishments cover using the lamb leg fillet as a common base for all their recipes. This project of Interovic (Interprofessional Agri-Food Sheep and Goat Meat), which is part of the European program "Suckling, lamb and kid meat. Tasty and Sustainable, choose European origin" and which is also taking place in other cities such as Valencia, Zamora and Barcelona, ​​continues one more year encouraging the consumption of meat of sheep origin, especially among the younger public.
It does so by putting it between bread and bread, forming part of such a popular and affordable preparation as a sandwich and using it as a link between all the bars that participate in this initiative that was created in 2019 and that celebrates its fourth edition this year.
As stated by Raúl Muñiz, president of Interovic, "consuming a Paquito not only means enjoying a lamb sandwich, but also betting on the most sustainable meat, thanks to its grazing production system, and helping farmers, those who best maintain the rural world and give life to our towns".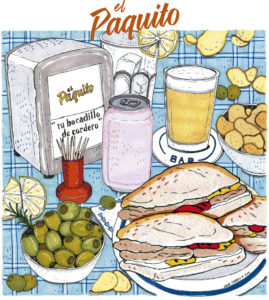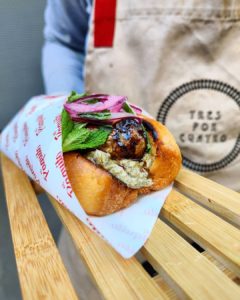 The lamb sandwich with its own name
Although the Paquito is only one, the truth is that there are many different Paquitos waiting to be discovered in the city of Madrid. All of them are made using the leg of lamb fillet, a very versatile and affordable product that guarantees the consumer optimal organoleptic characteristics.
Of great quality and produced in extensive livestock, this raw material also has a substantial importance linked to the territory in which it is produced. The grazing of sheep and goats from which this meat comes is concentrated, for the most part, in areas of emptied Spain, helping to retain population in those areas and valuing a long-standing culture and tradition. In addition, sheep contribute to maintaining the biodiversity of the ecosystem and to the prevention of forest fires, thanks to their consumption of grass.
MÉS MORE INFORMATION ABOUT THE PAQUITO AND THE BARS AND RESTAURANTS WHERE GET IT