The marc "COMPROMíS BENESTAR ANIMAL" PAWS , of Provacuno, Its purpose is to guarantee the consumer that the products derived from beef, identified with said brand, come from operators that have complied with the requirements established by PROVACUNO, regarding animal welfare and the traceability of this certification scheme, offering a high level of welfare animal. The Reference of Animal Welfare in beef cattle PAWS has been prepared by the Spanish Society for Animal Protection (SEPROBA), experts in certification and by a multidisciplinary scientific committee and is based on certification accredited by ENAC.
In order to obtain the PAWS seal, in addition to the legal requirements regarding Animal Welfare, additional requirements that imply a high level in this area must be met, such as verification of the environment, biosecurity, housing conditions, food, water, health, among other aspects, also guaranteeing adequate traceability to ensure the proper use of the brand in the products that are made available to the consumer.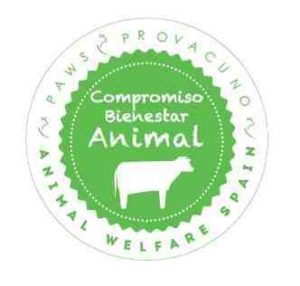 From PROVACUNO it was always clear that the success of the Reference, both in terms of compliance with the requirements and the impact on the confidence it transmits to the market, depends to a large extent on the certification process being rigorous and demanding and for this it was essential involve the National Accreditation Entity (ENAC) so that only certification entities accredited by ENAC can grant the use of the seal. In this way, it is possible to ensure technical competence and compliance with international standards by the certification entities and that their work is constantly supervised through the demanding evaluation process established by ENAC.
The PAWS seal is based on:
5 principles 5 freedoms
Free from hunger, thirst and malnutrition.
Free from fear and anguish.
Free from physical or thermal discomfort.
Free from pain, injury or illness.
Free to express their own patterns of behavior.