Following the General Assembly of PROVACUNO, the Interprofessional Beef Organization, held in Madrid, Jaime Yartu San Millán has been appointed as the new president after receiving the unanimous support of the different associations that make up the Interprofessional.
The new president expressed his gratitude for having trusted and supported his candidacy, of which he feels "deeply proud and to which he will dedicate time and effort to represent a sector as important to society as Beef Cattle". Jaime Yartu San Millán, graduated in economics and law, has been linked to the meat sector all his life.
The new board re-elected José Friguls, president of Anafric, as treasurer.
Among his upcoming challenges, Yartu points out "the need to continue investing in research to face the future with guarantees, as well as to show the reality of the sector so that those who know us the least do so". Yartu also stressed that this sector "is an example of competitiveness, traceability, sustainability, animal welfare and quality".
The new president of PROVACUNO is aware of the strategic role of the Beef sector "of which we should feel very proud", just as he is aware of the difficult scenario that the sector is going through where "the shortage of product, the increase in costs of production and legislative cost overruns put us in a complex situation".
The new president considers the presidency of the PROVACUNO interprofessional as "a huge challenge and a great personal responsibility to respond to the trust that all the organizations that make up this interprofessional have placed in me."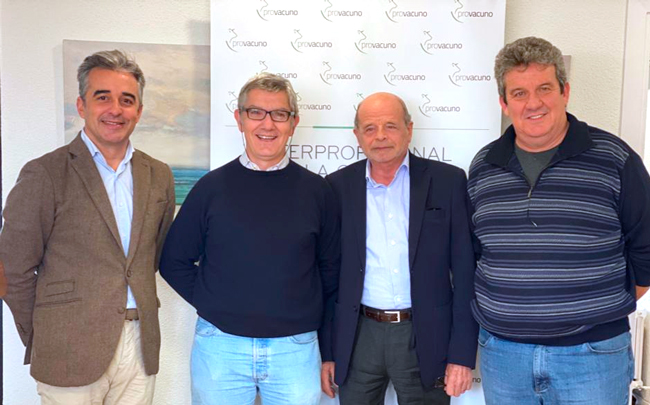 After this General Assembly, the board of directors of PROVACUNO is as follows:
President: Jaime Yartu San Millán (ANICE)
Vice President: Raúl Sanz (AGRI-FOOD COOPERATIVES)
Secretary: Joan Algueró (ASOPROVAC)
Treasurer: Josep Friguls (ANAFRIC)
Vocals: Manolo Vázquez (ASAJA)
Roman Santalla (UPA)
Joaquin Gargallo (COAG)
Pol Vinals (FECIC)
Cecilio Folgado (AGEMCEX)
Maria Sanchez (CEDECARNE)
Octavio Gonzalo (AGRI-FOOD COOPERATIVES)
The new team faces this stage with the aim of continuing to work on the internationalization of the sector, opening new markets and consolidating those already open, responding to new consumer trends and improving the competitiveness of the chain through through research
For his part, Eliseo Isla, before leaving his position as president, has valued the work done as a representative of PROVACUNO in these years. Isla has highlighted the achievements, "we have been able to open important countries for export such as Japan, we have carried out transcendental communication campaigns to improve the perception of our sector and product, and we have launched excellent projects in favor of sustainability and of animal welfare, and all this, with very complex situations resulting from the COVID19 pandemic".