Anafric organizes and hosts the annual assembly of the UECBV, the European Union of Beef Traders, which will take place in Barcelona on October 26. As a novelty, compared to previous editions, Anafric has created the NetWorKing eXpeRienCe, a space for companies with the aim of the event becoming a space for generating business contacts.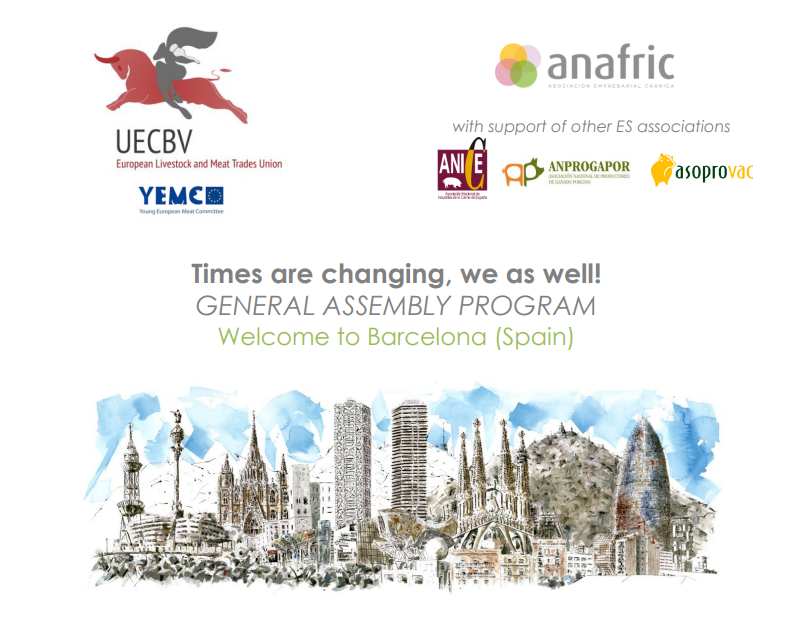 The NetWorKing eXpeRience and the General Assembly will take place on the same day, on October 26, at the H10 Marina hotel in Barcelona. This event also has the support of Anice, Anprogapor and Asoprovac.
Anafric is an association that is a member of the UECBV, the voice in the European Union of the national associations of the different European countries that represent livestock traders (cattle, horses, sheep, pigs), meat traders (beef, equine, sheep, pork) and the meat industry (slaughterhouses, cutting plants, meat preparation plants).
The European association has 50 national or regional entities in 24 of the 27 EU member states, also including the United Kingdom, Japan, Norway, Switzerland and Ukraine. In total, nearly 20,000 companies of all sizes are invited to participate in the assembly.
Program of the UECBV meeting in Barcelona. October 26th
Wednesday, October 25, 2023
H10 MARINA Av. del Bogatell, 64, 68, 08005 Barcelona (Spain)
14:00 – 17:00 Chardonnay Room: veterinary issues group
17:00 – 20:00 Garnatxa Room: sustainability group
18:00 – 20:00 Chardonnay Room: Management Committee
Thursday, October 26, 2023
H10 MARINA Av. del Bogatell, 64, 68, 08005 Barcelona (Spain)
10:00 -13:00 section meetings, in parallel:
Chardonnay Room: LTS (live animals)
Garnatxa Room: MIS (meat industry)
Xarel.lo Room: ITS (international trade)
11:00 – 13:00 Icària Hall: NetWorKing eXpeRiencE
15:00 – 17:00 Icària Room: INTERNAL General Assembly
(only for UECBV members)
17:00 – 17:30 Coffee break
17:30 – 19:30 Icària Room: OPEN general assembly
Part 1 / Initial sectoral presentation pending confirmation by a European Commissioner and his Spanish counterpart.
Part 2 / NO NEWS, FAKE NEWS
Jordi Alavedra, professor of advertising + marketing and communication. Jordi Alavedra has worked closely with Luis Bassat, Founding President of Ogilvy in
Spain, since 1985. First at Ogilvy where he was its vice president until 2015 and since then developing communication plans for various Spanish and international clients. In preparation for his participation in this General Assembly, Jordi Alavedra uses "The Creative Paths" described and published by Luis Bassat as the axis of his presentation.
NO MEAT, NO HUMANS
Dr. Abel Mariné, Professor of Nutrition and Bromatology + Professor Emeritus of the Faculty of Pharmacy of the University of Barcelona. Abel Mariné is the author of more than 200 articles and books.
Among others, he has been a member of the WHO Food Safety Expert Panel, of the Board of Directors, of ILSI (International Life Sciences Institute) – Europe, President of the Scientific Committee of ACSA (Catalan Food Safety Agency), member of the Council Public Health Advisor to the Generalitat of Catalonia, president of ACCA (Catalan Association of Food Sciences), vice president of the Danone-Spain Institute.
20:00 – 24:00 Gala Dinner at Restaurant Òleum. Av. Montjuïc, National Palace
For more information and registration: [email protected]