LEATECH LEATECH is an initiative developed by the last two EU Higher Education Institutes active in leather education, the A3 Leather Innovation Center of the University of Lleida (Spain) and ITECH, the Training Institute for Textile Engineers and the headquartered in Lyon (France), together with the EGE University in Izmir (Türkiye) and CIATEC in León, Guanajuato (Mexico). They have all come together to co-launch within the EU-supported Erasmus Mundus program a two-year, 120-credit academic curriculum to attract talented people from around the world to the leather industry to help transition to a more sustainable and circular industry.
The launch event will take place at Adobería Bella, headquarters of the Leather Cluster Barcelona, on March 22 at 4:30 p.m. and can also be followed online.
REGISTRATION ON THE PRESENTATION DAY:   REGISTRATION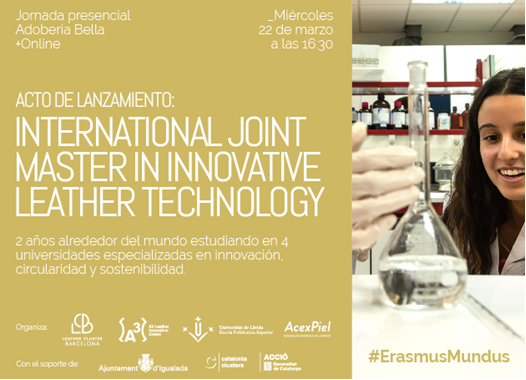 Graduates in chemistry, engineering, biosciences or similar from any country in the world have the opportunity to learn the latest developments in innovation and sustainable business practices at four key points in the global leather industry. The Master will be held in English.
The Erasmus Mundus Program will eventually award up to 60 scholarships to the best candidates in terms of academic excellence, professional experience and motivation. Erasmus Mundus financial support is expected to last for more than 5 admissions, the first of which will start in October 2023.