Anafric organizes on March 7, from 1:30 p.m. to 2:30 p.m. at the Meat Attraction Forum, the Comuni-carne workshop: keys to effective communication for the meat sector, where ideas that are permeating the preferences of today's society and how to apply them will be provided in favor of the communication strategy of the different links that make up the livestock-meat chain with the aim of prospering.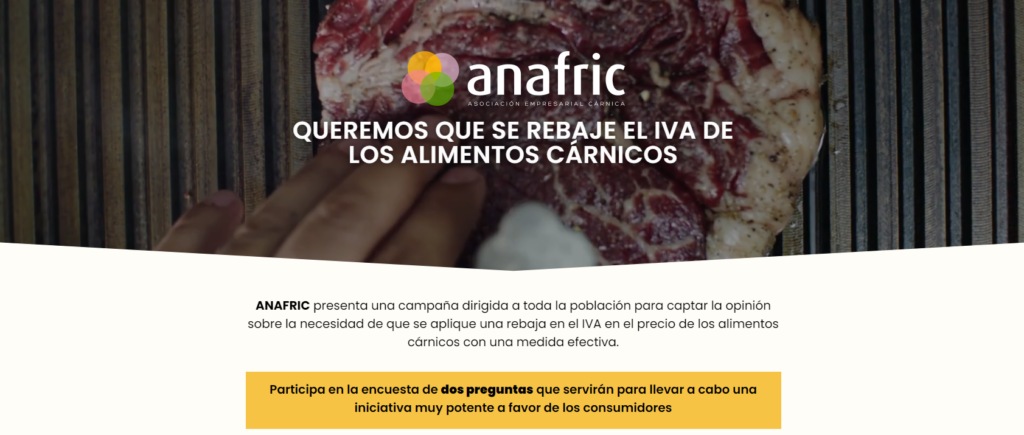 The event will begin with the first results of the national survey promoted by Anafric on the degree of acceptance in the population for the VAT reduction on meat foods. This act will be moderated by the journalist and presenter Elisabet Carnicé.
How should the meat industry be projected to its public? How to connect with the current discourse that prevails in social networks?
The workshop will have the participation of David Monfort, director of operational strategy of the Impacta Group agency, who will invite all visitors to an enjoyable, practical and participatory experience and where keys will be taught on how to win opportunities among all the actors through an effective communication, before the new paradigms and the new habits of consumption.
Registration for this workshop is free through the Meat Attraction LiveConnect space. More information [email protected]
INVITATION TO ATTEND THE SURVEY PRESENTATION
Courtesy of Anafric, you can have your pass with EXCLUSIVE CODE AND WITHOUT COST:
👉