Livestock companies, industries and meat retailers have continued to work during confinement to ensure the supply of stores in this difficult period that our country and the rest of the world is facing, with safe and quality food, rebelling once more as an essential sector for society.
The meat industry sector is made up of a fabric of some 2,800 companies with slaughter, cutting and production of processed products, with a very important base of small and medium family-owned companies, while large business groups have also consolidated, some of them leaders at European level. Last year the meat industry raised its turnover by 2.5% to 26,882 million euros, which consolidates it as the most important sector within the food and beverage industry, which represents 22.6% of all the Spanish food sector. Spanish meat production, an international benchmark.
Both farms and a large part of meat companies are located in rural areas, where they avoid depopulation and contribute to generating wealth, territorial cohesion and employment. It is estimated that livestock farming in our country directly employs more than half a million people, while the meat industries generate 97,000 jobs and retail trade (butchers-delicatessens and supermarket sections) another 75,000.
In total, it is estimated that about two million people live in the livestock-meat chain in our country, including agricultural production for livestock, and the sectors of veterinary professionals, feed, animal health, logistics and transportation, and auxiliary industries.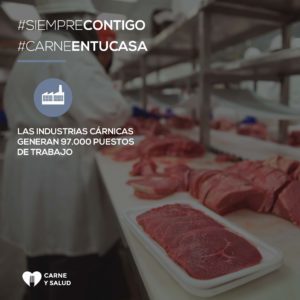 The meat livestock sector is currently made up of more than 350,000 farms in Spain. Today, the pig sector (white and Iberian) has 83,360 farms and has already carried 7,417 million euros to Final Agricultural Production; the beef producing sector has 130,790 production facilities and represents a value of 3,363 million euros, the sheep sector has 113,779 facilities and contributes 2,072 million euros to Final Production, and the rabbit sector has 1,972 facilities and a value of a market of 275 million euros. Poultry farming has 19,070 farms and 2,349 million euros worth of final agricultural production.
All these farms and industries make Spanish meat production a benchmark both nationally and internationally, as the data from the last year shows. The Spanish meat industry put on the markets a total of 7.2 million tons of meat and 1.4 million tons of processed meat, which represents a turnover of 26,882 million euros, 22.6% of the entire food sector Spanish and 2.24% of the country's total GDP.
Of these figures, 2.7 million tons of meat and processed products of all kinds corresponded to exports to markets around the world, worth 7,555 million euros, with a very positive contribution to the deficit in Spain's trade balance, with a growth of 26% in foreign turnover and 15.1% in volume compared to the figures of the previous year.