The Interprofessional del Porcino de Capa Blanca (INTERPORC) reinforces the position of the pig sector internationally with its successful participation in the 'Seoul Food & Hotel' fair, held in South Korea, the sixth destination country for Spanish meat exports and made from Spanish pigs. In total, 11 Spanish companies in the sector (COSTA BRAVA, ELPOZO, FACCSA-PROLONGO, FAMADESA, FRIBIN, FRISELVA, GRUPO JORGE, INCARLOPSA-LORFOOD, LITERAMEAT, MAFRIGES, PATEL-RODRÍGUEZ) showed their 'SPANISH PORK' products -the brand that internationally identifies meat and products from Spanish white-coated pigs-, in the grouped INTERPORC pavilion. Spanish pork exports to South Korea amounted to more than 145,000 tons in 2022, exceeding 477 million euros in value.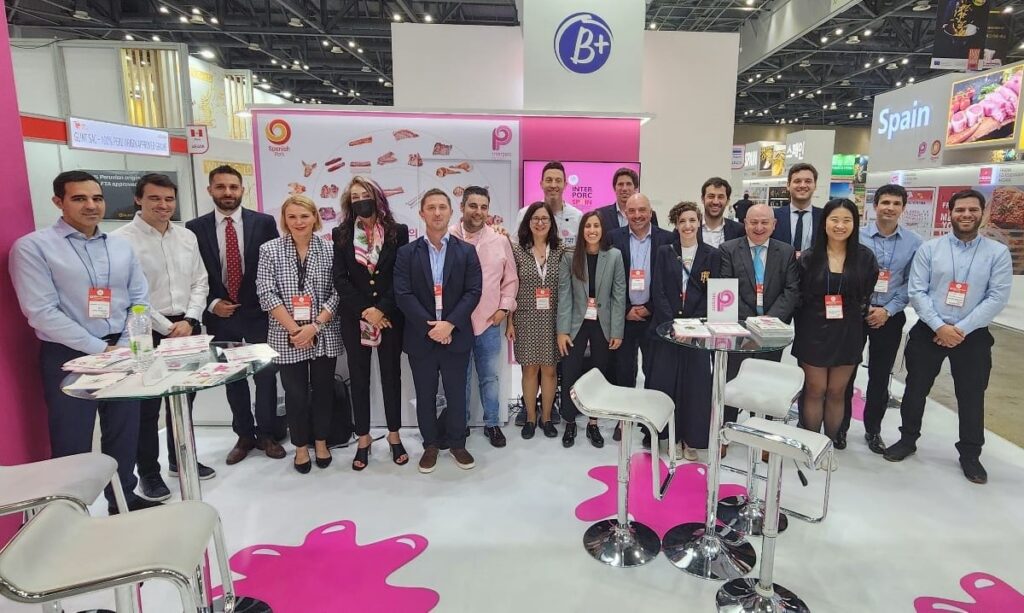 During four days, INTERPORC has carried out numerous activities, including show cooking, cutting demonstrations and tasting of white layer ham and sausages, among other activities, within the framework of the INTERPORC and ICEX Spain Export and Investment Sector Plan for the promotion of meat and made from pork in South Korea.
Another notable event in which INTERPORC has participated has been the 'Culinary Challenge', co-organized by the KCA-Korea Chefs Association and supported by the Worldchefs-World Association of Chefs Societies, in which 24 chefs competed making recipes in which they had to include as star products bacon and pork cheek.
On the other hand, INTERPORC, in collaboration with the Spanish Chamber of Commerce, organized the 'Spanish Pork Night' on May 31, at The Xef restaurant, a networking meeting between Spanish companies and Korean importers, which was attended, among other personalities, the economic and commercial adviser, Darío José Sáez Méndez.
The Spanish product in the South Korean market
Since 2015, Spanish exports of white-coated pork products to the Republic of Korea have grown without interruption, up to close to 138% in the last eight years. In fact, South Korea has become the sixth destination country for our products.
South Korea imports a high volume of pork meat in order to meet its growing domestic consumption. In the year 2022, the Asian country imported more than 600,000 tons of meat and pork products. Of this total, the Spanish pig sector was the second largest supplier, with 26% of imports.
Spanish companies have been able to take advantage of the opportunity to establish their position in this Asian market, maintaining their leadership as the second supplier, only surpassed by the United States and far behind the next (Canada, with 10.7%).